The Unitas Fratrum in Bohemia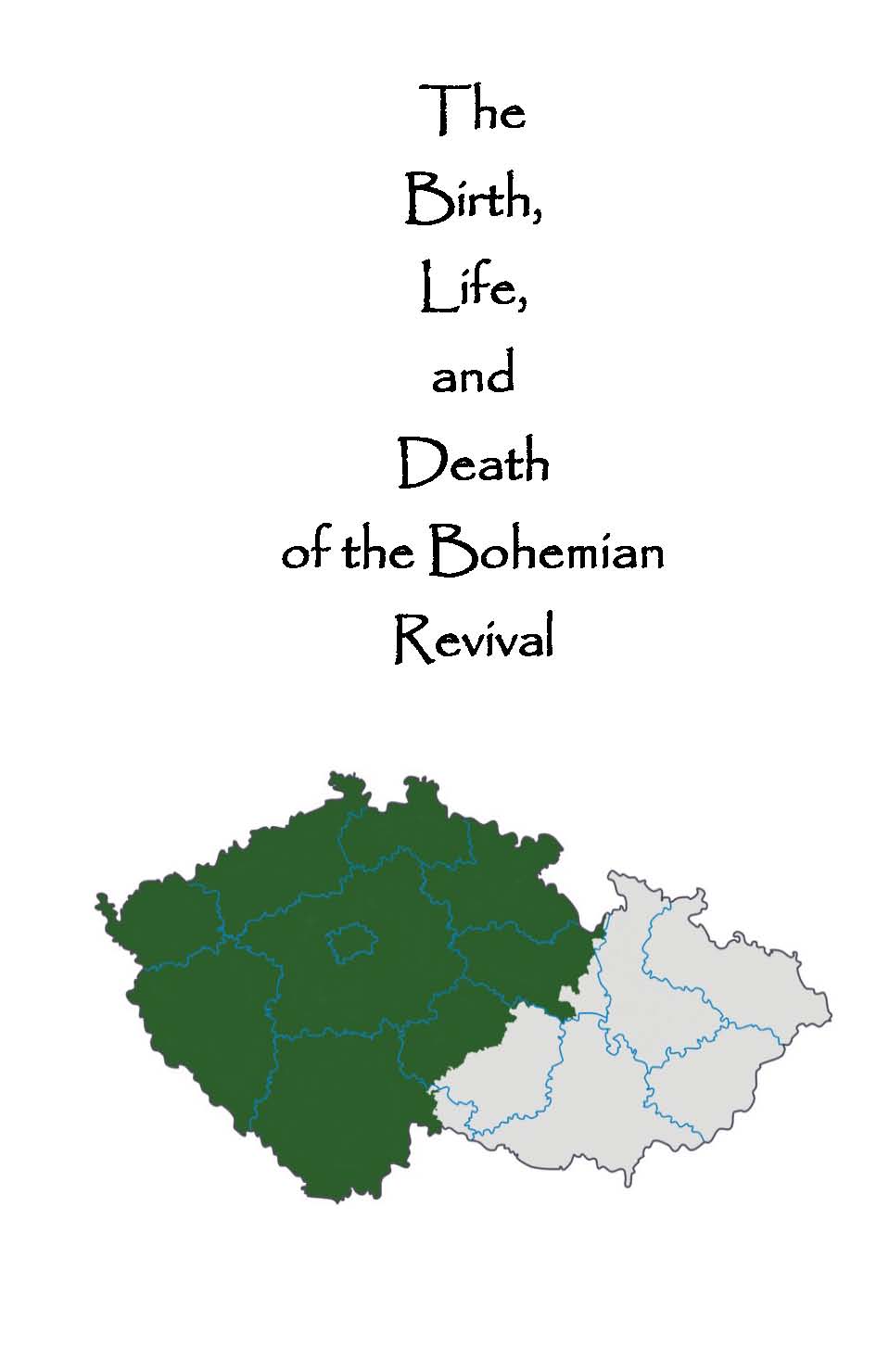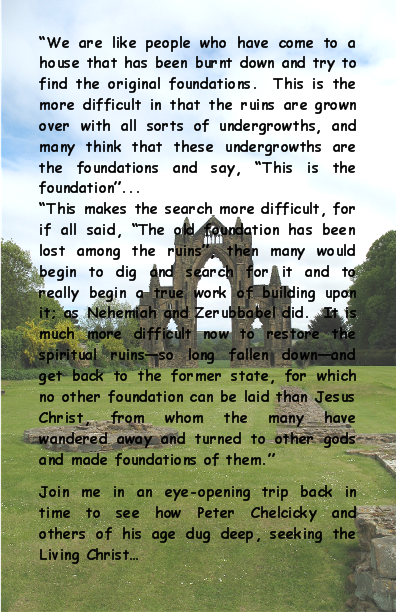 Prologue
It is with great joy that I present the following story to the public. There are those who have no interest in history; that is perfectly fine. Then there are the rest of us. To these latter I dedicate this book.
History holds within her bosom innumerable lessons for the inquiring soul. Some inquiries are easy enough, because someone who has trod before put some thought into the future and recorded the deeds that he had witnessed.
Other inquiries are not so simple. The story that this book unfolds to us is one of this latter class.
Actually, one of the early Bohemian Brethren bishops did think of the future and record the story for us: but alas all found copies were destroyed by his enemies, and none have appeared since that time.
This narrative is thus pieced together from many sources. I am not really the author of this story as much as I am the compiler. In fact, some sections of this book are almost completely made up of long quotations from other works, with a few minor edits and perhaps a phrase or two stuck in here or there.
Now for the confession: With great resolution I started putting this book together with the intention to duly recognize each source, in the bibliography.
Well, here we are, two changes of residency—with the resulting topsy-turvy mix of notes and papers—and a couple of years or so later... You probably know what I am about to say: it did not happen. This project had to be put on the back burner several times. As well, in my excitement of finding an interesting quote or tidbit to mix into the narrative, I sometimes just plumb forgot to write down the source. This is especially true of information gleaned from the internet. It is so easy to copy and paste...and forget to acknowledge the source. As far as I know, I have not infringed upon any copyrights, as copyright law permits short quotations for educational purposes. All of the longer quotes I mentioned above are from public domain sources.
And a word about names: Using sources from Czech, English, and German, the variants in names of places and people have been immense and confusing. Top that off with the fact that I do not read Czech, and very little German. While I have tried to standardize the names, keep in mind as you go through the story that you may see variants. This is especially true for name places, as Bohemia was the meeting place of two cultures, German and Slav. The Germans had names for some of the towns that differed from the name that the Slavs used; not just a German form, but a totally different name in some cases. Mix that in with the English name of the same place and you have a real potpourri.
In cases where I know the anglicanized version of a person's given name, I have tried to use that, as I am an English speaker and most of the readers of this book will be also. Thus Jiri is George and Jan is John. I know Georges and Johns, but Jiri is some unknown fellow who hales from some other people group; maybe not quite like I am. And Jan is a girl, is she not?
It is my desire that the characters in this story seem like real folks, just like the ones who live just down the road from you. And the fact is, they were real, common, everyday humans just like the people in the house down the road from you.
For place names, I have used the anglicanized Czech name (accent marks removed), if I could find it. For those who may not know—like I did not before starting this book—where Bohemia was, it is basically the western half of the modern Czech Republic (the darker portion of the front cover). The eastern half of this country is made up of what used to be Moravia, and parts of Silesia (lighter portion).
This book is not really finished, I just quit working on it. If anyone desires to refine it further, they are welcome.
Without any further delay, I commend you to the story of the birth, life, and death of a revival of primitive Christianity.
—Mike Atnip
—January, 2009
—mike(at)primitivechristianity.org
---
In the spirit of:
Isaiah 55:1
Ho, every one that thirsteth, come ye to the waters, and he that hath no money; come ye, buy, and eat; yea, come, buy wine and milk without money and without price,
and
Luke 6:38
Give, and it shall be given unto you; good measure, pressed down, and shaken together, and running over, shall men give into your bosom. For with the same measure that ye mete withal it shall be measured to you again,
and
Act 2:44
And all that believed were together, and had all things common,
and
Act 4:32
And the multitude of them that believed were of one heart and of one soul: neither said any of them that ought of the things which he possessed was his own; but they had all things common,
this book is given to the public domain by the author. God have mercy on the soul who may use it outside of this spirit.
---
Go to Part 1 Birth Pangs
Photo Credits
The following is taken from the pdf file page numbers, so page numbers are to be ignored.
Most of the photos used in this book are public domain or CC images taken from Wikipedia. Check the Wikipedia article for complete details of any photo.
The following are either used with a CC license, or the permission request was incomplete at the time of publication (I asked permission but have not heard back. If permission is denied later, these photos will be pulled from future editions. Anyone who will be printing this book for profit should be aware of this, and is responsible for all copyright issues.)
p. 16 Interior of Bethlehem Chapel http://flickr.com/photos/petirrojo/2038086451/ CC License http://creativecommons.org/licenses/by-nc/2.0/deed.en
p. 56 Kunvald-Lost URL-Incompleted permission request.
p. 71 Kunvald http://www.orlicko.cz/ubytovani/Svjan/Index_uk.htm Incompleted permission request.
p. 121 and 127 Castles-czech-castles.blogspot.com CC License http://creativecommons.org/licenses/by/2.5/
Bibliography of Major Sources
Brock, Peter. The Political and Social Doctrines of the Unity of Czech Brethren in the Fifteenth and Early Sixteenth Centuries. Ed. Cornelis H. Van Schooneveld. The Hague: Mouton, 1957.
Chlumsky, A. History of the Evangelic Union of the BohemianMoravian Brethren in Texas, personal manuscript, 1907.
De Schweinitz, Edmund. The History of the Church Known as The Unitas Fratrum or The Unity of the Brethren, The Moravian Publication Concern, Bethlehem, PA, 1901.
Fries, Adelaide. Some Moravian Heroes. The Christian Education Board of the Moravian Church, Northern Province. Bethlehem, PA, 1936.
Hoover, Peter. Behold the Lamb!
Hutton, J.E. A History of the Moravian Church,
Molnar, Enrico. A Study of Peter Chelcicky's Life and a Translation from Czech of Part One of his Net of Faith
Rican, Rudolf. The History of the Unity of Brethren, The Moravian Church in America, Winston-Salem, NC.
Wagner, Murray, L. Petr Chelcicky A Radical Separatist in Hussite Bohemia, Herald Press, Scottdale, PA, 1983.